Leading Pakistani actress Ayesha Omar has dispelled misconceptions among consumers about her marriage to national cricket team all-rounder Shoaib Malik.
After her stellar performance against Scotland in the
World Cup T20
, Ayesha Omar shared old photos of the
promotional photo
shoot with Shoaib Malik which drew a lot of user comments.
The photo shoot of the actress and the cricketer was strongly criticized by the fans while some people even started talking about their marriage.
One user commented on the photo: Do ​​you both have a wedding plan?
The actress could not ignore the comment and commented at length.
Ayesha Omar wrote that no, not at all, he is married and he is very happy with his wife.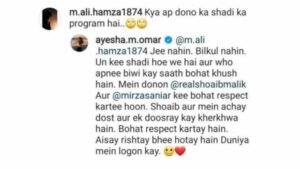 Ayesha Omar wrote in her comment to Shoaib Malik and Sania Mirza that I respect both of them very much, Shoaib and I are good friends and well wishers of each other, we respect each other, there are such relationships. in the world.